It might have been Friday the 13th, but the night was full of fun and learning and beautiful women! I'm talking about thelatest Alpine Beginnings Open Night of course… it was the biggest and best yet! Around 40 people attended, and I was blown away by the number of new faces who had come to hear about Alpine Beginnings and the services we offer. The room was full of a wonderful mix of loyal clients, curious newcomers, gorgeous younger teens and sparkling mature women.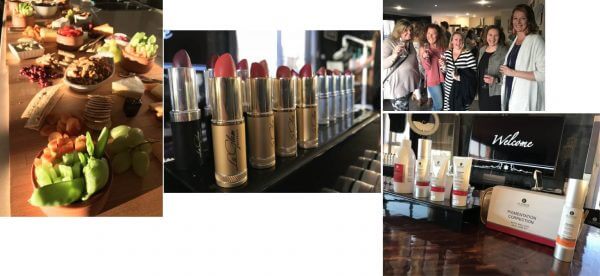 There was a real buzz in the room, with lots of fun and laughter. People were eager to hear about what I had learned at the Beauty Expo in August, as well as find out about the new products and services I would be introducing to the Salon. And of course, everyone wanted to know about the fantastic specials available to Open Night guests only.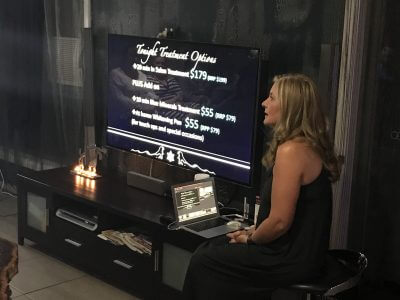 I went out on a limb this year, and spoke a lot more about the structure of the skin and the science behind the different treatments I use. I really wanted people to understand how the different products or treatments work, how I can help my clients resolve the issues that concern them and why I do things the way I do. My motto at Alpine Beginnings is "Inspiring wellness through beauty", and I wanted everyone to understand my holistic approach, and how much work I put into researching everything I introduce into the Salon. I think it worked! There was a lot of interest and lively discussion.
One new guest said afterwards "I came to hear about one particular product, and I've been blown away by the level of education and enlightenment that Elisa offered!"
As always, I aim to introduce exciting new products and treatments at the Alpine Beginnings Open Night, and this time was no different. I revealed that I am now offering the new La Clinica Age Reversal Treatment in the Salon! This 5 layer peel has been in development by La Clinica for 2.5 years, so the level of research behind it is phenomenal. The Age Reversal Treatment is intense, but very effective, and is the first La Clinica treatment to use retinol as part of the peeling process. This results in deep exfoliation and assists in reversing the signs of ageing such as acne scarring, wrinkles, dehydrated skin and pigmentation. Open Night guests were treated to a one-off special offer for this amazing new treatment, with a line-up at the end of the night as people booked in to take advantage of this!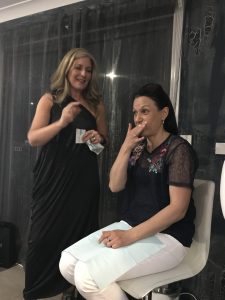 I was also able to reveal that Bleach Bright Teeth Whitening is now available in the Salon! With my previous career as a dental therapist, I am especially excited to be able to bring this treatment to my clients. With their tendency to stain as we get older, teeth really do show your age no matter how clear and healthy your skin is!
I was able to give all my guests a demonstration of the whitening process and how it works – just a 20 minute in-salon treatment, which results in whiter teeth for up to 12 months. And it really works! I was able to demonstrate that the Bleach Bright Treatment can lighten your teeth between 2 and 10 shades.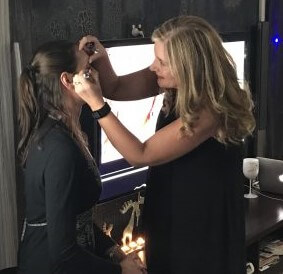 I also gave a demonstration of how simple and effective the Cherry Blooms Fibre Lash Extensions are for giving you long and beautiful lashes. People love this product! One of my guests had never used mascara her whole life, but after the demonstration was excited to try the Cherry Blooms products. There were lots of other goodies and specials on offer for guests who attended, and everyone went home with a special gift.
Feedback from the night was wonderful. Thankyou ladies, for your lovely comments!
"Awesome as always! Informative and fun"
"The hardest decision is choosing which treatment to get!"
"Elisa is so much more than just a beauty therapist. She's so knowledgeable and cares so much!"
"I just love Elisa's passion and genuine commitment to skin health as well as beauty. That's why I keep coming back to her!"
For those of you who missed out or were unable to attend, don't worry! I will hold another Open Night some time in the New Year, with new offers, lots of information and as always, lots of fun! If you want to learn more about any of the treatments or products I've described here, don't hesitate to contact Alpine Beginnings Beauty on elisa@alpinebeginningsbeauty.com.au or 0411 355 897. See you in the Salon!
Much love
Elisa xx