Hold onto summer this winter with Sunescape's Wash-Off Mousse and Illuminating Body Tint
Winter may be coming, with shorter days, colder temperatures and no more shorts and t-shirts, but that doesn't mean you need to become a pale version of your beautiful summer self. In defiance of the cold, Alpine Beginnings Beauty is excited to announce the arrival of some fun, sun-kissed new products from the tanning gurus at Sunescape; the delightfully easy, lightweight Wash-Off Mousse and for an instant, radiant glow, the Illuminating Body Tint.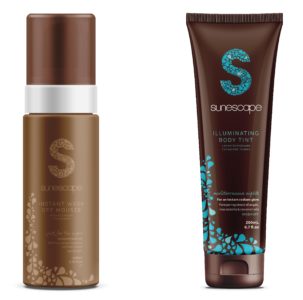 Last minute party invitation? Missing the summer but don't want a permanent bondi tan in the snow? These gorgeous products are perfect when you need that tan-in-an-instant, but don't want it to stick around. They give you all the fun of a sun-drenched day at the beach, without any commitment. Sunescape's new wash-off range is DHA-free, meaning the colour doesn't bond to your skin, it just washes off easily with soap and water at the end of your day (or night). This doesn't mean it'll rub off on your clothes or leave streaky marks, Sunescape's quick-drying, Australian-made formula gives you a natural, healthy bronze glow for 24 hours. Perfect for hiding even the most extreme skier's goggle tan!
These wonderful products also come in easy-to-carry sizes that can travel with you anywhere, meaning you can carry sunshine with you even on the darkest winter's night, anywhere around the globe. They will leave you looking radiant, carrying with you a divine coconut and vanilla perfume that will make everyone think you've just arrived from a tropical island paradise; the perfect mid-winter pick-me-up.
Check out these and other glowing Sunescape products at www.alpinebeginningsbeauty.com.au now to order online, or in the salon.
See you in the winter sun!
Much love,
Elisa xx