The days are longer, the air is warmer, summer is almost here! And yet the streets are full of blinding white legs and pale skin. Yikes! We are all very cancer conscious these days, and nobody wants to burn like a lobster. Not to mention the horrible ageing affects this has on the skin. But it is nice to head out to lunch with friends, and not have to wear sunglasses for anything except the sun. These days there are some fantastic alternatives so you don't have to put yourself at risk of skin cancer, expose yourself to harmful chemicals, or look orange and streaky like your child's first painting.
At Alpine Beginnings, I stock a gorgeous range of spray tanning and self-tanning products from Sunescape.  Sunescape is an Australian owned and produced company, based in Bondi. Unlike other tanning products, Sunescape is alcohol and paraben free, and bursting with nourishing and moisturizing oils. It uses coconut oil, macadamia nut oil, kiwi seed extract, avocado oil, vitamin C and vitamin E to repair, soften and rejuvenate skin. All of which enhances your new bronze glow. I never step outside without my Sunescape tan. It is the best on the market for preventing that horrible 'orange' look, streaky or patchy colouration, and dry flakey skin that some products cause.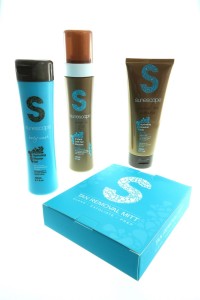 Spray tanning is the most effective way of obtaining an even, all-over colour. At Alpine Beginnings I have a dedicated spray-tanning room to keep you looking as though you've just stepped off the plane from a holiday in the Maldives. Three levels of tan are available using Sunescape products:
"Weekend in Bondi"     This tan gives a subtle boost to those with pale skin, and is the perfect way to ease back into flattering summer outfits after a long, snowy winter. It is perfect for brides, bridesmaids and those who are nervous about trying their first ever spray tan.
"Week in Fiji"   A shade darker, this tan is suitable for most skin tones and is the most popular choice of clients. You will look naturally bronzed, and feel confident as you step out in your new favourite summer dress or don the swimming costume for a lakeside splash.
"Month in Maui"             Who wouldn't like to spend a month in Maui?! People will wonder if you've managed to squeeze a tropical holiday into your busy schedule. This tan is ideal for those tanning aficionados who want a deeper colour for summer. It's also great as preparation for a weekend down the coast or catching up with those always-tanned Queensland relatives over Christmas.
If you prefer to apply a sunless tan in the comfort and privacy of your own home, I also have a range of take-home Sunescape products available.
Hydrating Self-Tan Mousse – Available in the three Sunescape tanning levels, "Weekend in Bondi", "Week in Fiji" or "Month in Maui"
Hydrating Gradual Tan Extender – Great on its own as a daily tan builder, or to help extend and maintain your spray tan from Alpine Beginnings
Hydrating Body Butter – A rich moisturizer to improve the look of your skin, and extend the life of your spray tan from Alpine Beginnings
Self Tan Applicator Mitt – For streak free application, reusable. Ensures your hands are unstained.
Tan Removal Mitt – Gently exfoliates and cleanses, great for removal of any skincare products as well as your tan.
Hydrating Shower Gel – Highly recommended to extend and maintain your tan. Contains no sodium laurel sulphate or soap products to provide a natural and moisture-packed cleansing experience.
Self-Tan at Home Pack – Perfect to get you started on your self-tanning adventure or as a fantastic Aussie Christmas gift idea. Contains Self-Tanning Mousse (Week in Fiji or Month in Maui), Hydrating Body Butter, Hydrating Shower Gel, Self-Tan Application Mitt.
When applying tanning products at home, remember these tips to get the best result:
Before you tan: Prepare your skin. Exfoliate, but no waxing or shaving 24 hours prior
Day of tanning: do not moisturise or wear deodorant (tans works best on dry, unperfumed skin), wear loose comfortable dark clothing to avoid rubbing tan off.Do not shower, exercise vigorously, sweat or get wet for at least 2 hours after tanning
After tanning: avoid waxing as it will remove the tan. To lengthen the duration of your tan, avoid soaps and shampoos that contain sodium laurel sulfate (SLS). Also avoid long hot showers or baths and prolonged swimming. Keep skin well nourished by using Sunescape Body Butter and moisturise morning and night to maintain the best results from your tan.
Spray tanning options are listed below. Book now to get your summer tan or purchase these fabulous Sunescape products. Remember, Alpine Beginnings is closing on the 10th December for the Christmas period.
Sunescape Full Body Tan              $40
Dry Brush Exfoliate and Tan         $50
Arms and Legs Only                       $25
See you in the Sun!
Elisa xx