Take the time to Treat the Skin You're In!

Here at Alpine Beginnings, we love our La Clinica products. They're Australian-made, organic cosmeceuticals, specifically made to support a range of skin types and combat a variety of skin conditions. And now the La Clinica Firming Lift Facial is available at the Alpine Beginnings Beauty salon! This is a highly active, skin restructuring treatment which helps strengthen, protect, firm, tone and condition the skin. I'm very excited to add this premium La Clinica treatment to the Alpine Beginnings repertoire.
The Firming Lift Facial is special as it uses products with Biomimetic Peptides (specially engineered, purified amino acids) which mimic key growth and regeneration components of the skin. Therefore this is a facial which is ideal for skin that is showing signs of decline in firmness, hydration and elasticity. And the beauty of it is, it can be used on all skin types, including very sensitive or dehydrated skin. My clients are seeing wonderful results!
The key La Clinica products in the Firming Lift facial are the:
Firming Lift Helixer Facial Serum, and
Firming Lift Eye Lift Gel
Both of these contain a number of Biomimetic Peptide ingredients which have effective anti-ageing and skin firming properties. In particular, these ingredients help to:
Reduce and prevent lines and wrinkles by actively generating new skin cells
Support normal skin growth as well as healing and wound repair
Strengthen skin elasticity by inducing the growth of collagen and elastin
Decrease the skin's production of ageing biomarkers to reduce the signs associated with ageing, such as sagging, slackness and wrinkles.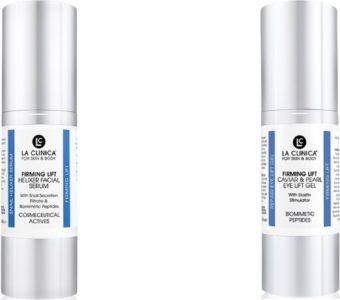 In addition to these specialised ingredients, the Firming Lift Facial also uses a number of important organic ingredients, including Manilkara multinervis leaf extract, caviar extract and pearl extract. These components support the Biomimetic Peptides by protecting ad repairing the skin, increasing tone and firmness, nourishing the skin, stimulating skin cell metabolism to revitalise and regenerate, detoxify, hydrate and strengthen.
To experience the full benefits of this unique facial treatment, the Firming Lift Facial is 70 minutes long, and a series of treatments are recommended. You won't regret taking the time to treat the skin you're in! This facial really is for everybody, no matter their skin type.
Book now on elisa@alpinebeginningsbeauty.com.au or 0411 355 897, or online at www.alpinebeginningsbeauty.com.au
Much love,
Elisa xx