New to Alpine Beginnings – Image I Beauty!
The Alpine Beginnings Beauty Salon is a pretty exciting place to be these days – so many new things! The Visia skin analysis machine, new products from La Clinica, the Alpine Beginnings Skin Gym program… I'm always looking for new ways to treat my clients and new products to improve my range. With the introduction last year of the La Clinica skincare range, I brought the advantage of cosmeceutical products to my clients, and now I've found makeup products that will continue those benefits. The Image I Beauty range is here!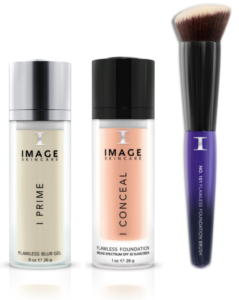 It is my goal for your whole skin to experience the value of cosmeceutical products, from cleanser to moisturisier to makeup, every product is promoting hydration and supporting your skin in anti-aging. The Image I Beauty range offers a primer and foundation line that not only look great, but actively heal, nourish and protect your skin at the same time. The I Prime flawless blur gel is a primer and so much more.  It reduces the appearance of deep wrinkles and lines and leaves skin flawless for application of makeup or daily moisturiser. The I Prime blur gel contains a powerful blend of antioxidants, plant-derived stem cell extracts and botanicals to fight free radical damage that causes skin aging. And of course, it's paraben-free.
Follow this up with the I Conceal flawless foundation. This is a daily foundation that heals and conceals for a flawless complexion. It is suitable for all skin types, and is ideal for those suffering pigmentation, redness and rosacea, acne and acne scarring. It can also be used after cosmetic injections, skin treatments, laser treatment and surgery, and is perfect for covering up unsightly bruising and scarring. The healing properties come from a range of key ingredients which contain regenerative properties, promote wound healing, soothe and calm the skin, promote the skin's natural defenses, contain anti-free radical agents, increase hyaluronic acid and collagen production, increase oxygen uptake in the skin, deliver vitamins and hydration to the skin, and of course, contains broad-spectrum sun protection. In other words, this product does it all!
Apply your I Prime blur gel and I Conceal foundation with the I Beauty no. 101 flawless foundation brush. Achieve complexion perfection with this pro-quality HD foundation brush. Dense bristles are specifically designed to fit the contours of your face to flawlessly blend and buff makeup for a perfectly airbrushed effect. The flawless foundation brush can be used for application of serum, primer, foundation or tinted moisturiser.
Click here for the "How To" video demonstration of the I Beauty makeup.

Find your iBeauty products at Alpine Beginnings Beauty now. Order online at www.alpinebeginningsbeauty.com.au or when you come in to the salon for your next treatment. I'm so excited to be able of offer these wonderful new products to my gorgeous clients. The Image Skincare motto is "Age Later", and I'm definitely on board with that!
Elisa xx