What a night we had last Friday! The champagne was flowing, the hors d'oevres were circulating and the conversation was buzzing. It was a fabulous atmosphere for the Alpine Beginnings Open Night, and it was definitely the gorgeous guests who made it so.
I was very touched and gratified by the number of clients who came along. We had 35 in all! It really shows how much you all care about your skin, and I'm very touched by the trust you place in me.
We kicked off the night with bubbles (of course), and some amazing nibblies (thankyou – you know who you are). Then before getting down to business I drew the winner of the first lucky door prize; Georgia, congratulations! I really hope you enjoy your La Clinica Micellar Cleansing Water. The second lucky door prize winner, Sue, took home the new Vitamin C Radiance Skin Oil. It's so fantastic to see clients excited about the new products introduced by La Clinica.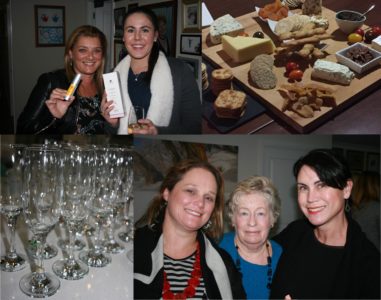 Fun aside, my aim for the evening was to help you all understand the science of skincare, why I do what I do, and set you up to combat the unique dehydrating effects our Alpine winter environment can have.  Remember, here in the Snowy Mountains we suffer from 25-35% higher UV exposure than those at the coast, and snow reflects 80% of UV radiation back up at us from below (compared with water, which only reflects around 30%). It's cold, it's dry and there's a lot of UV. Skincare is essential!
Introducing…. My new surprise!
To better understand your skin individually, and how it reacts to the environment and your lifestyle, I've brought in a new addition to the Alpine Beginnings armoury. Revealed to those lucky few at the Open Night, I can now perform diagnostic skin analyses on a client's face using a state of the art Visia skin analysis machine! This not only shows me (and you) the areas of greatest skin damage, it helps me to understand specific issues you may experience, such as wrinkles, pigmentation, rosacea, eczema, skin spots, UV damage, acne and many more. I can therefore tailor a specific skin plan that suits your needs and skin type, addressing key issues and areas of greatest damage.

The Skin Gym Program
Another announcement for the evening follows one of my favourite mottos: skincare is just like going to the gym; it's never too late to start! And so…. Introducing the Alpine Beginnings Beauty "Skin Gym Program"! This is an ideal program to prepare your skin for winter, and also provides a platform for home maintenance, to support and maintain your skin between visits to the salon.
The key components to the Skin Gym program are the Rejuvenation Skin Peels. This requires 2 appointments to the salon, and promotes skin rejuvenation and increases skin cell turnover. The Peels are followed by a home treatment plan aimed at boosting moisture levels and optimising skin health. Just like the gym for our bodies, our skin needs continued support and stimulation to maintain fitness.
To demonstrate some of the in-salon treatment, I performed a mini Rejuvenation Peel on the gorgeous Rachel. This was greeted by much interest from my guests, some jealousy, and lots of discussion. Everyone wanted to participate! The Rejuvenation Peel does generate some flushing (Rachel described a warm tingly sensation), but everyone was able to see how quickly that abated. Afterwards, many guests commented on Rachel's radiant glow, and the freshness of her skin.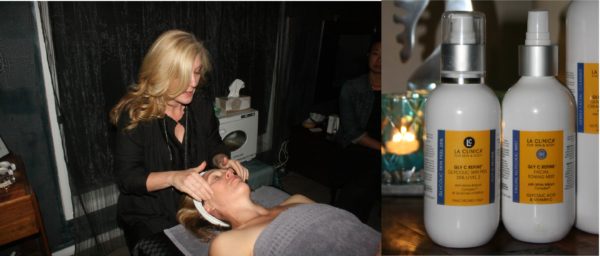 There were exclusive offers for all guests who attended, with most people leaping at the chance to sign up to the Skin Gym program. The line up to make appointments was halfway around the room! I feel so grateful to be able to treat each and every one of you.
Thankyou to everyone who attended the 4th Alpine Beginnings Open Night. I am honoured by the support you have shown, and your interest in the skincare and services I provide. Thankyou also to those who helped make the evening possible. I couldn't have done it without you.
We finished, of course, with more bubbles and some divine desserts!
Happy Winter to all of you, and remember – sunscreen and hydration!
Much love,
Elisa xx
Some comments from the evening were:
Lynn: An enlightening evening! I have a much better understanding of all the products now.
Tracy: A classy and well organised event. And fabulous food!
Lil: Thank goodness it's not too late – I'll definitely start taking my skin to the gym!
Regina: I'm so impressed by Elisa's knowledge and passion. I feel safe as a client entrusting my skincare to her.